[spb_gallery gallery_id="20652″ display_type="masonry" columns="1″ fullwidth="no" gutters="yes" image_size="full" slider_transition="slide" show_thumbs="yes" autoplay="yes" show_captions="yes" enable_lightbox="yes" width="1/1″ el_position="first last"] [spb_text_block animation="none" animation_delay="0″ simplified_controls="yes" custom_css_percentage="no" padding_vertical="0″ padding_horizontal="0″ margin_vertical="0″ custom_css="margin-top: 0px;margin-bottom: 0px;" border_size="0″ border_styling_global="default" width="1/1″ el_position="first last"]
Photos by Brandon Hill
Y'ALL. How freaking cute is this top?! I love everything about it; the floral print, the colors, the flowy fit… and it's less than $30. Get this—it's from American Eagle. If you are about my age, this store probably brings back some middle school memories. But, I wandered in the other day and my. mind. was. blown.
Not only did I find a million (ok, maybe only like 10) things that I liked, but the prices were amazing. There were tons of cute little tops, dresses, and rompers for under $50. Plus nearly everything in the store was buy one, get one half off AND you can get 30% off online right now for Memorial Day. I'm pretty much obsessed with everything I got, especially this top, but my favorite find was definitely these white jean shorts.
I have a really hard time finding shorts and jeans that fit well so this was a real game changer. I ended up getting several pairs of denim shorts and my new favorite pair of skinny jeans. If this is something that you struggle with too, I highly recommend checking out some American Eagle jeans. They have a lot of different styles and fits so there's something for everyone! Plus, they're affordable.
This entire outfit is linked up down below, but if you're looking for more goodies definitely check out the AEO website or just pop in the store one day like I did. I promise you that you'll be pleasantly surprised and may or may not leave the store with a few giant shopping bags (guilty!). PS this post was not sponsored—I'm just legitimately this stoked about rediscovering this store.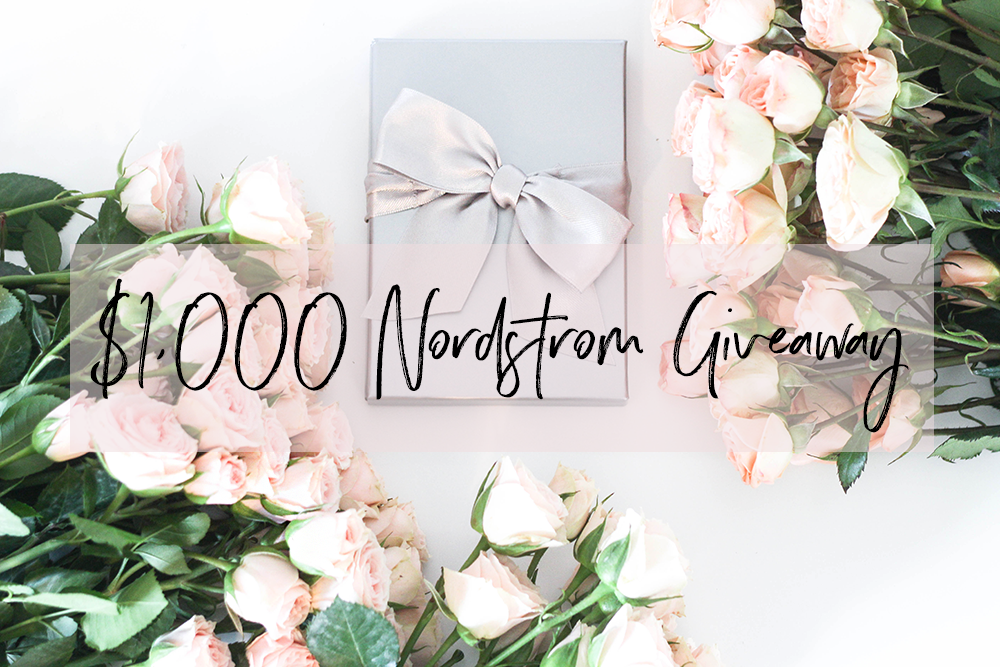 This week I am teaming up with an amazing group of ladies to bring you an INCREDIBLE giveaway. One lucky reader will win a $1,000 Nordstrom Gift Card.

Money Can Buy Lipstick | Coming Up Roses | Marvelous in the Midwest | Glitter and Gingham | Nines to 5
Posh in Progress | RD's Obsessions | Blush & Blooms | Pretty in Pink Megan | So Heather
DTK Austin | Modern Day Moguls | The Trendy Tomboy | My Boring Closet | Mrs Casual
Rose Gold Lining | Absolutely Annie | Sunsets & Stilettos | Glass of Glam | Topknots & Pearls
I am Style-ish | La Passion Voûtée | Sass & Sun | The Closet Crush | Blondes & Bagels
Lizzie In Lace | A Lily Love Affair | Celebration Stylist | Red Soles and Red Wine | Style Weekender
Boho Style File | Makeup Obsessed Mom | Trendy Chickadee | The Beauty Beau | Twenties Girl Style
Sabby Style | The Heart of the House | Street Style Squad | The Middle Page | A Lo Profile | Dashing Darlin

Use the widget below to enter the giveaway. The more "tasks" you complete, the more entries you will receive. The winner will be announced (on the widget) within 2 weeks of the giveaway ending. The giveaway is open to the U.S. and Canada.
[/spb_text_block]